I'm excited about this one because it airs on TNT which has a great royalty rate. #MailboxMoney
WE HAVE A NEW SHOW!
I'm excited about this one because it airs on TNT which has a great royalty rate.
Overview of What We're Looking For:
fun punk and hard rock,
sports hip hop,
rock/hip hop hybrids,
humor cues that are a bit less pizzicato-ish, with an edgier, more modernized sound
light tension

Deadline:
On-Going
Type of Submission: Non-Exclusive Instrumentals – use the submission form on our website.


Below is some creative direction we have received. Take a look and see what you think.
Stems, stems, stems…
From what we've seen so far, we could use more versions and stems of cues. Some of our cues don't have enough versions to allow for editors to specifically craft them to a scene. It's really important to have minus versions of cues rather than every instrument separately. Versions like No Drums, No Guitar, Drum and Bass etc.
No drums and Only Drums are by far the most important versions to have, especially crucial for comedy to be able to drop out the drums. We need sparse versions to allow for editors to apply layers appropriately.
Vocals – don't even need full lyrics, with this kind of music you can just play with a few words like "Hey!" and "Yeah yeah!" etc.
Drums – Would like to play with cues that start with drum hits, so we can try timing the drums to shots at beginnings or ends of scenes. Here is an example from Soundgarden, but even this is a little too fast or could use a couple more hits. Would be great to have at least two drum hits at the top of track that can stand alone before the music starts.
Or it could start with guitar hits like this:
Epic Hybrid references:
Pitbull "I Believe That We Will Win" – Good rock/Hip-Hop combo –
Panic at the Disco "Say Amen" has that big anthemic sound:
Epic Sports Hip Hop
No references yet but this kind of thing and any triumphant brass could work:
DJ Kalid – All I Do Win:
Modern Fight Blues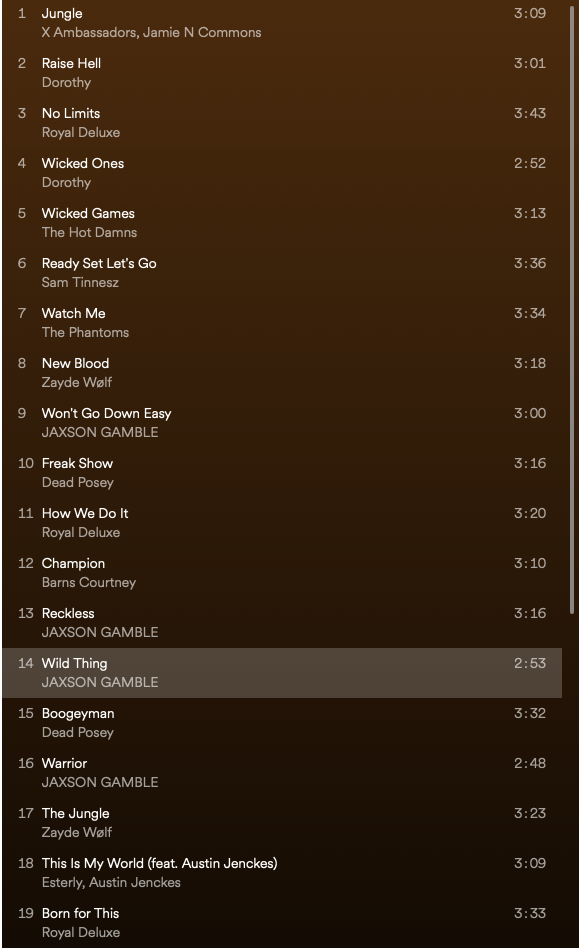 Punk references
They didn't ask for this but they have put some to this kind of thing in the pilot. This could be a great way to go.
The Sun –Love & Death album
Red Hot Chili Peppers "Suck My Kiss"
The Hives have a great sound for this show, especially The Black and White Album
Division of Laura Lee has fun upbeat punk sound
Lighter sounds:
The Knew "By Yourself"
Imagine Dragons "Natural" – quirky, with slight edge – can also have some of these slightly slower but still high energy cues
Nelly, Florida Georgia Line "Lil Bit" has guitar and a playful beat that could be used for something with a comedic twist
COMEDY -here are some elements to play with, still working on honing in this sound
Vibes and percussion – hand claps, big bass, electro bass
Avoid the typical reality sounds like pizzicato strings and anything too goofy, they would prefer to play with sounds that are a little more funky than silly, think more R&B/funk.
Example: Slower version of something like this:
Let's put our best foot forward and make the show sound great!
I don't know the timeline but they are shooting and putting things together and they don't have a complete episode yet.
We are very happy to have something new in the works!
We supply music to these networks and tv shows on a weekly basis. You have to be a member to work with us. Everything is set up for you. All you have to do is join us on this epic adventure! If you have not yet signed up with us, then you definitely should! We can help you get TV placements the moment we start working together.