Hope everyone is safe & healthy!
Just wanted to shoot over a reminder to say we're still open for business, accepting and populating our TV publishers catalog with YOUR music!

Times are tough, but push forward – we want you to succeed and we can't help you if you aren't sending us your music. 🙂

Remember – those who get placements are the ones submitting in tracks. Now's a perfect time to get back on the grind and start cranking out those tv cues while others aren't.

UPDATE:
Right now – we are focusing strictly on instrumental cues which are usually 90-120 second in length tracks that evoke a mood, style, or genre.

Hold off on any full songs with vocals. We''ll let you know once we can start that back up.

Ps. Be sure to submit alt mixes with each cue to maximize your placement potential!

Overall – stay safe & get your instrumental cues firing up and start getting them submitted in!
– MFTV Team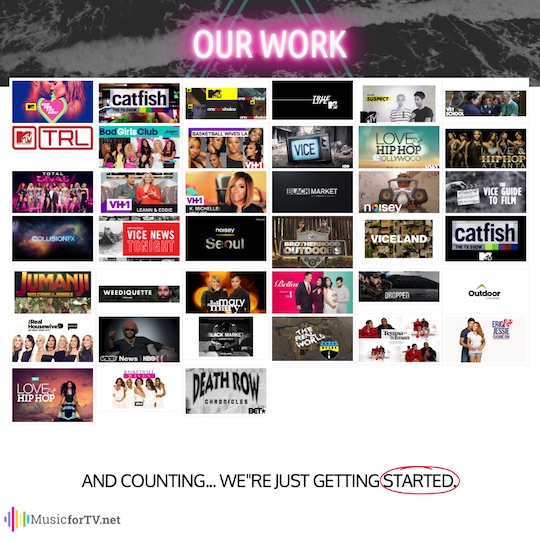 Production Tip Of The Day
"The best way to predict your future is to create it." – Abraham Lincoln
Music Placement Strategy Tip:
Create Valuable Content – Don't waste your time creating music people do not want to use or hear. Keep it modern and ask yourself questions like, Does this music sound modern, Is this a style that someone would want to use commercially, how can I be of maximum service and cater to the needs of today's music industry? What type of music is actually getting placed and what style do they actually want? Another thing: Watch the TV shows and listen!! Do some research. You'll hear what is being used and wanted in terms of style and type of music. Another thing that can devalue and break your songs chance of placement is how you structure or lay out your track. Create/Build your tracks with your customer in mind. Put yourself in the shoes of a music supervisor adding music into a show or film.

They need transitions to move from one scene to the next, intros, outros, quick jump ins, vibes, moods, moment makers etc. Taking a day to strategize or do some research is super important! Secondly, recognizable and modern sounding tracks… you can't go wrong with those! Listen to the Billboard top 100 tracks – those styles are in right now and always a good clue to what will work and is in popular demand. Lastly, create alt mixes of each cue you create! TV placement is some what of a numbers game. The more quality tracks you create and distribute, the more opportunities you'll have to get placements. Another positive is when you create more and more tracks, your production skills increase, and your personal music catalog grows. This is great for you.
Do some math – if you sent us 2 cues with 3 alt mixes each – giving you a total of 8 tracks a week, you would have over 400+ tracks submitted tracks in a year. That's a great goal for each of you and puts you in a top position to see lots of placements $$$$ Think about it? 2 cues and a few alt mixes a week? That's not hard at all to achieve. Overall, for best results – just stay consistent, write regularly and you should be golden! Let's Gooo!
Ok go write and fill that pipeline!

Submission Reminders:
Add 10-30 keywords in your tracks meta data. (The More The Better)
Create and Submit Material! (Can't get TV placements without music)
Be Consistent (The future you will thank you)
Send Quality over Quantity
Watch and Listen to the music on the shows (Not sure what's placing? Watch THE SHOWS!) 😀
Send Alt Mixes*** (If you are not exporting out alt mixes seriously start doing it!)
MOST IMPORTANT* Follow Directions:
Working efficiently is so important. Once you join our team, we need to work like a team. Please help us by reading and following directions. Our process, is laid out in steps for you to follow. Check out the "Getting Started" Steps here. We need to be professional in all submissions, meta data, and labeling.

Login here to learn more about our Prep and Delivery Protocol!

Not Sure What You Should Be Writing For RIGHT NOW?
Write for our On-Going TV Placement Opportunities all year long! Here's a few main specifics:
MTV Catfish
VH1 Love and Hip Hop
Bravo Real Housewives of NY
HBO Vice
Viceland
Viceland Noisey
VH1 Basketball Wives
& many more!

Login here to view more in depth styles, moods, and types of music that are needed.