The demand for music content has never been greater. Hundreds of tracks are needed every week. We receive many requests for these networks and TV shows looking for quality music. At MFTV, we actively look for music professionals with talent who are looking to meet this growing demand for music.
Are you a producer who can create high quality 90-120 second instrumentals?
Do you have a hard drive full of tracks that you can repurpose?
Are you ready to take the next step to advance your career?
We want to hear your work! You could be sitting on a goldmine of music content that networks need!
****Listen to the demos and see how your music stack ups against these! If you can make similar tracks… Your music could already be on TV!
"As much as I love music, I was at a crossroads and considering giving up my dream. I was working a full time job that I of course didn't like. I couldn't figure out how to monetize my love and passion for music. I worked really hard and learned a lot but still didn't make money! Years went by like this.
Finally, my big break! I was introduced to the lucrative idea of placing music cues in TV ($). Using the same program I am offering you, I started earning regular royalties. I was and still am writing simple cues in my spare time. All it took, was for me to know the right people and START WRITING!"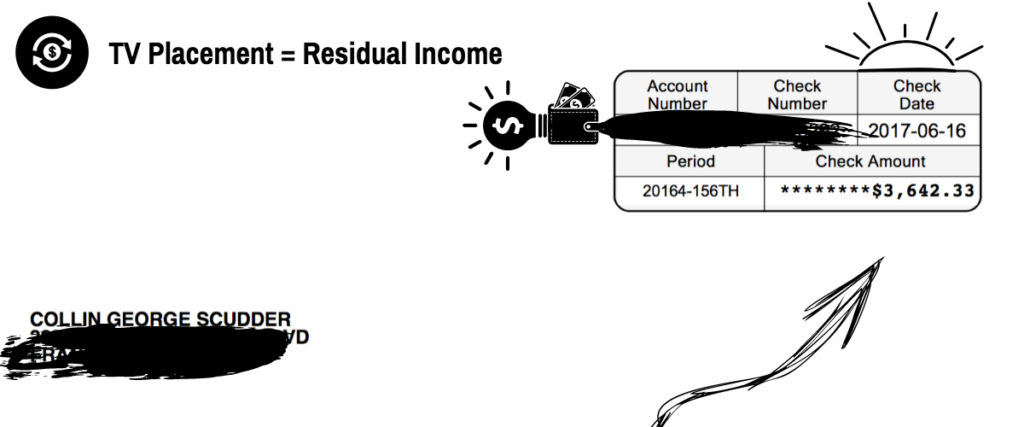 WHY WE STARTED MUSICFORTV.NET
I have now been writing music for TV shows and have been landing placements for over 4+ years. I remember what it was like not having anyone on your side in the music business. Truly, it is really difficult to find avenues to make money with your music.
My business partner James and I started Music For TV to help our friends monetize their music in TV. The results… have now led to my friends getting placements, making money, and hearing their tracks in their favorite shows. With the connections and relationships MFTV has fostered through the years, we can now offer our services as a trusted source that supplies major networks and TV shows with high quality music.
This could be your music. It worked for me, it worked for them, it can work for you.
Collin G. Scudder
Composer & Co-founder of Music For TV – IMDB
Small Company Making A Big Impact
Sign up for our newsletter for a free gift, tv placement opportunities, commercial music requests, industry insight, tips, tricks, exclusive deals and news!